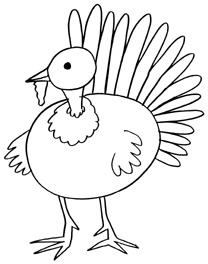 Somehow I hit my 300th post and didn't realize it. This is 301. Go, me!
Anyway, I'm off for Thanksgiving, and I don't imagine I'll be blogging till I've returned (though one never knows). And so, dear readers, I wish you a Happy Thanksgiving wherever you are.
And if you're still reading and need something to do, feel free to
click this link
and learn to the draw the turkey that's gracing this post. Now you've got one more marketable skill to put on your resumes and CVs.
Don't laugh.
The economy's taking a downturn, and you need every marketable skill you can get. Seriously. There are probably a lot of jobs out there for folks who can draw a turkey. Someone's got to paint political portraits, after all.
So, once more, Happy Thanksgiving!