Crazy times here, people. With some extraordinary willpower (not my own), the universe has been bested in the midst of bad weather, and I'm back and warm and here for your blogging pleasure. We're nearing the end of reader questions (and who am I kidding, it's Thanksgiving and no one should be reading this anyway - there's family and football and food and and and...). You get the point. Today, I'm going to group two questions together.
The first comes from Maggie:
2. What film or TV character would you most like to be & why?
And the second from Belle:
Coming off Maggie's - what character (TV/film) would you most like to invite to dinner? Why?
Now I fear that my answer may disappoint a little here, mostly because there are some pretty big hitches in my willful suspension of disbelief. For whatever reason, I can imagine being fictional characters from shows that are unrealistic in the present or past but not the future.
So though I watch shows like
"Heroes"
and
"Battlestar Galactica"
(holy crap! thank goodness you asked this question - I had no idea there was a special BG episode on the 24th!), I have a harder time thinking about who I'd want to be from those shows.
And worse, I have a hard time picking a single favorite of nearly anything and adding in possibilities (film and tv? how do you pick just one?). So for Maggie's question, I've got a couple of answers based on those things. First, I'll give the one that I can almost suspend my disbelief enough to allow for, and second, I'll put what I came up with when I really pushed the limits of it. But I'm just going to do tv.
So here goes: who would I be and why from TV (the almost real version):
Magnum, P.I.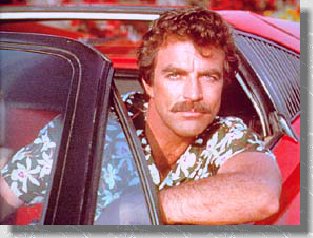 I don't think based on
this opening
I even need to explain. But, if you must know, living a life of leisure, solving mysteries, driving a Ferrari at excessive speeds, a friend with a helicopter, living on a beach in Hawaii? Even without the moustache and the action hero love life, how could you resist that?
Now then, who would I be and why from TV (the to hell with reality version):
Bugs Bunny
Now, to be fair, I have a hard time deciding between Bugs Bunny, Daffy Duck, and Pepe Le Pew, but Bugs wins for cultural cachet (not to mention he tends to get the best of Daffy - unfairly, I think). Not only is he an icon, but when HE takes the wrong turn at Albequerque, he winds up somewhere cool. He's funny, fuzzy, and he and his pals taught me nearly everything I know about classical music.
Just because, here's
a link to some Bugs goodness (and it's one of my favorites).
Incidentally, there were runners up here and they weren't all cartoons. They included Animal from "The Muppets" and Starbuck from the new "Battlestar Galactica."
Now Belle's addendum to the question is even more fun to deal with. Here the suspension of disbelief thing is really a problem for me because I'm actually inviting someone to dinner. Dinner invitations carry all manner of considerations. Obviously, I'm overthinking this.
So, from TV, who would I invite to dinner and why?
Johnny Carson
Here's the thing. I value funny. And if someone's coming to dinner, they'd better have something to say. Johnny would seem to have both. Think of all the people he interviewed and the stories he must know that never got told. And who couldn't he interview and make funny? And think about this, he did it in a suit and was able to make jokes about sex on TV in the 1970s. He didn't have to do the coked up, disheveled thing (I'm looking at you, Dane Cooke). He just was. He recognized funny: think of all the comedians whose career was made on his show. Plus, he carried a sidekick who, near as I can tell, was there only in case someone got out of control.
Also - and this is probably the biggest reason - I wonder whether he'd laugh at one of my jokes. That would be awesome.
Maybe I should try and come up with some more modern answers, but I don't really watch any real TV these days. It probably doesn't help that some of the other possible answers included Captain Kangaroo, Soupy Sales, and Martha Quinn.
Man, I'm getting old.